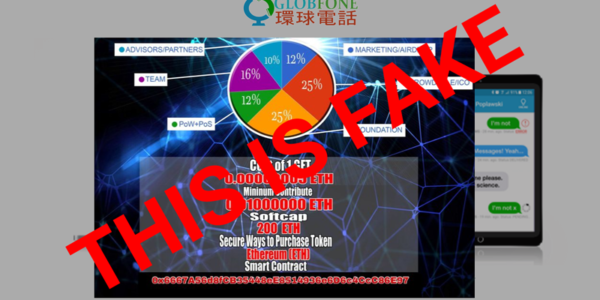 Fraudulent and unauthorized individuals impersonate Globfone brand to raise funds for an alleged Globfone Token Crowdsale (ICO)
It comes to our attention that an independent individuals who has absolutely no association nor a business relation with the our company I-TRENDS and brand GLOBFONE has attempted to use and is currently using the trade-name and logo of Globfone without permission nor consent in order to draw the attention of our brand's users to crypto currency trading.
Globfone users as well as interested brokers of Globfone Coins are warned that the domain "globfone.net" ant its ICO is entirely unrelated to Globfone.com domain and brand Globfone, which is a duly registered trademark, and are therefore advised not to cooperate in any way with this business entity in any way whatsoever.
Therefore, and taking into consideration the facts in hand, the company has made a decision to proceed appropriately with the necessary actions against such unlawful conduct within its regulatory and legal obligations and framework.
With that in mind, it is our duty to report when such fraudulent, unauthorized impersonators occur. List of known and unauthorized scam activities:
1) webpage "globfone.net"
2) Telegram App – group called "Globfone Channel" or "Globfone community"
3) YouTube https://www.youtube.com/watch?v=ogOEi2T41oY
4) Twitter https://twitter.com/GlobfoneToken
5) FB https://www.facebook.com/globf0netoken
6) Medium.com https://medium.com/@globfoneofficial
7) GitHub – https://github.com/GlobfoneToken
8) Reddit https://www.reddit.com/user/globfonetoken
9) Bitcointalk.org – https://bitcointalk.org/index.php?topic=5022609.0
Official trademark registraion: https://euipo.europa.eu/eSearch/#details/trademarks/016849135
Globfone.com – Security Alert